---
Northcoast Dave

"No! Dave", our first greyhound, won our hearts over to retired racers long ago and well deserved to represent Northcoast Greyhounds from our very beginnings.
Even longer ago, the original, more exotic version of this design from which our logo dog evolved, was created by Anita Gersch- we didn't even know it at the time and now, all these years later, Davie is still making new friends for us!
Toe to toe, Dave's sterling broach measures 2.5" in length and 1.25" in height.

Price: $100.00
---
Runner

More often used to adorn designer pendants, Runner makes a stunning little pin all by himself!
Can't resist including this image of Bailey Bast- is this cool or WHAT?
He's the image of Runner- or is it vice-versa?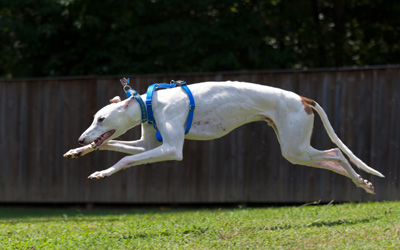 Price: $60.00
---
XL 8Ball

XL 8Ball is a highly noticeable piece, measuring 1.25" across. You'll see him mounted upon some stunningly large jewels, or all by himself as in this picture with both hidden bail for wearing on a chain or pin for wearing as a broach. It was one of our customers who insisted he have both- an excellent idea, too!
Price: $100.00
---