---
Heart Dog Charm Necklace
Featured Item!

Charm necklaces have become so popular that we decided to purchase more bits to construct one with lovely little dangles that had nowhere else to go!
Bit by bit descriptions:
Tiny 8Ball in sterling hangs from a frilly bail and is surrounded by a shiny little free-hanging heart. He suspends a special holder for five little charms:
* The last remaining double sided Tiny 8Ball in bronze
* A little sterling standing greyhound bought in Dallas when visiting GALT friends
* Bronze starfish bought here in Encinitas representing The Starfish Story ("I saved this one!)
* A precious little rose quartz heart to add color
* And a little bronze Brynn.
All are hung from a 24" adjustable snake chain.

Price: $150.00
---
Rhodocrosite
Featured Item!

If it weren't for Brynn, the striking pink wavy lines of Rhodocrosite would be the star of this almost-summer pendant! Valuable and desirable as rhodocrosite is, we are limited to the smaller pieces like this one, I'm afraid.
We've shown it on a 24" Adjustable Snake Chain, reduced by $10 if purchased together.

---
Sardonyx
Featured Item!

(Oops- I forgot the 1" map pin!) The deep shiny black of this trapezoidal, beveled trapezoid of sardonyx is decorated with its signature white lines and tiny 8Ball.
Weighty because of its sterling bezel, the pendant required two photos so you could see the work put into its setting.
The pendant measures 1" in height and 3/4" in width, but it is 3/8" in thickness! Include the 24" adjustable snake chain with a $10 discount if purchased together.

---
Bright Shiny Things!

Of all Bright Shiny things, this lab-created opal patchwork design has to be among the brightest and shiniest- it just doesn't like it's picture taken. I did my best but then my shadow reflected in Snoozer who is much brighter and shinier, too, than he appears in this image.
In person, this lovely pendant will glitter your socks off!

Price: $150.00
---
8Ball Framed

8 Ball, like flower Girl, resides within woodsy frame measuring 1.375" including the bail. The flower centers are oxidized for emphasis.
Price: $65.00
---
Aquamarine

This is Aquamarine in a subtle shade and unpolished natural form.
Look closely - you'll see the stone is cut with a horizontal point and Brynn runs above it, tilted to face admirers.
If your birthday is in March, we've got you covered!

Price: $160.00
---
Blue Betty

Or green Betty, depending upon how you look at this two-piece lab created opal slide. Either way, Betty is a knockout!

Price: $250.00
---
Dave In the Dirt

That's unkind, isn't it? But we love him anyway, right?
This little rectangle of Picasso Jasper, in its beautifully neutral colors, offers just the right size for our littlest Davie with a distinct line for him to lay in the dirt!

Price: $90.00
---
Delicacies

Colorful beads on spring wire with the tiniest of charms- they'll fit anyone easily.
Perfect for daughters and granddaughters!
Price: $35.00
---
Delicate Sterling Mike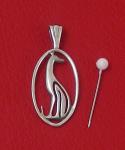 I suppose you could say that Mike is THE classic for Northcoast Greyhounds. He's our earliest design still in circulation, and remains our best selling pendant.
Price: $50.00
---
Flower Girl

What can we say?
This gracefully long-necked beauty speaks for herself. One of Northcoast Greyhounds original creations, it's obvious that Flower Girl has moved from a sandy racetrack to her own personal field of blossoms.
Flower Girl's frame measures .875" in width, 1.125" in height.

Price: $60.00
---
Fordite, too!

Nope- I'd never seen it before, never heard of it! But I was so intrigued by the stone's design design that I purchased several pieces. This is a favorite because I liked the rectangular shape that just fit the design (and Mike!) and the tubular bail that enhances it.

Price: $160.00
---
Hand Woven Rhodochrosite

The construction, by Living En Burmudas, along with the Rhodochrosite mineral both bring the value here- if you are viewing from a device, enlarge the macrame section which attaches pendant to necklace.
I met this handsome young French couple in Tucson at my favorite venue and marveled at their complicated designs. I hope you'll take a moment to see more of their creations and their story HERE!
This was the only beaded necklace among their Tucson collection.

Price: $300.00
---
Miniature Quartz

Unpolished, this little lumpy circle of snowy quarts has a rose quartz stripe right through the center- and behind Tiny 8Ball. Looks like an Easter pendant!

Price: $75.00
---
More Subtle Dave

Looks like he's the overseer of his domain on this subtlety toned semi-circle of purple jasper, accented by an amethyst teardrop.

Price: $125.00
---
Sharon Kaplan Necklace

Remember Ms. Kaplan's three necklaces from a couple of weeks ago? I found another one! Here's what I said about them:
"I never miss a street fair- sometimes I'm fortunate to find a new artist who will wholesale to me to benefit greyhound adoption: as is the case with SharonKaplanJewelry.com.
These delicate handmade necklaces are of vitreous enamel on Copper with attached chains. Each features one of our tiniest greyhounds in bronze."
The chain on this one is 21" in length.

Price: $75.00
---
Tiny But Mighty!

Some women just prefer little delicate jewelry- this colorful little semi-circle of abalone should fill the bill. It's just big enough for Brynn to shine!

Price: $50.00
---
Tiny Shiny 8Ball

Who doesn't love glitter?
This 5/8" square will glitter bright blue behind a bronze (gold) colored 8Ball. The chain is 16" adjustable for another 2".

Price: $75.00
---
XL 8Ball

XL 8Ball is a highly noticeable piece, measuring 1.25" across. You'll see him mounted upon some stunningly large jewels, or all by himself as in this picture with both hidden bail for wearing on a chain or pin for wearing as a broach. It was one of our customers who insisted he have both- an excellent idea, too!
Price: $100.00
---