---
Bright Shiny Things!
Featured Item!

Of all Bright Shiny things, this lab-created opal patchwork design has to be among the brightest and shiniest- it just doesn't like it's picture taken. I did my best but then my shadow reflected in Snoozer who is much brighter and shinier, too, than he appears in this image.
In person, this lovely pendant will glitter your socks off!

Price: $150.00
---
Dave In the Dirt
Featured Item!

That's unkind, isn't it? But we love him anyway, right?
This little rectangle of Picasso Jasper, in its beautifully neutral colors, offers just the right size for our littlest Davie with a distinct line for him to lay in the dirt!

Price: $90.00
---
Davie: All dressed Up!
Featured Item!

This is our littlest Davie on Kyanite- all dressed up with amethysts and pearl!
My Mother would have said he was "all gussied up!" :)
Price: $150.00
---
Lapis Double-Dogs
Featured Item!

My affinity is for geometrical shapes, but this lovely lapis slab is more freeform, so in this case you get both!
You can see by the 1" map pin that this is a large pendant. The tubular bail on the back will hold a substantial chain, so if you have one in either gold or sterling, it would work nicely with this spectacular pendant featuring sterling and bronze greyhounds.

Price: $200.00
---
Malachite Mike
Featured Item!

There's a spotlight on Mike. Drop the Mike. (Not this one!)

Price: $95.00
---
Sharon Kaplan Necklaces
Featured Item!

I never miss a street fair- sometimes I'm fortunate to find a new artist who will wholesale to me to benefit greyhound adoption: as is the case with SharonKaplanJewelry.com.
These delicate handmade necklaces are of vitreous enamel on Copper with attached gold tones chains of various lengths. Each features one of our tiniest greyhounds in bronze.

Price: $75.00
---
Sodalite Stargazer
Featured Item!

Flower Girl appears as though she's standing among the dune flowers beneath the midnight sky, doesn't she?
How often does one find a navy blue stone?! I mean, other than lapis...

Price: $85.00
---
Solid Onyx Dave
Featured Item!

Our Large sized Dave (not the XL) is perfectly centered upon this slightly convex rectangle of onyx.
If it appears in the image as though his ear is crowded at the top, don't believe your eyes. It's only because of the angle I had to use to avoid appearing myself in Dave's super-shiny sterling frame!
The tubular bail is ideal for accentuating Dave's stark geometrical background which seems just made for him!

Price: $160.00
---
Surprise!
Featured Item!

Yes, these are the same pendant-if you love it, PLEASE READ!
I found it impossible to show the landscape of this pendant- it's as though water ran through sand and created the smooth wavy ridges. The dark line on the right is a mini-canyon and the grey spot below tiny 8Ball is a hillock. It wasn't easy to find a flat enough spot for the greyhound!
I also found it impossible to photograph the pendant accurately in my photo-cube set up. EVERY image set off lavender fireworks! So I took it outside, despite the fact that sterling doesn't photograph well outside- any interested buyer should see that this stone is basically grey with sparkly glitter throughout. But catch it in the light and.... SURPRISE!
This is Amethyst Druzy on Grey Crystal.

Price: $125.00
---
Tiny But Mighty!
Featured Item!

Some women just prefer little delicate jewelry- this colorful little semi-circle of abalone should fill the bill. It's just big enough for Brynn to shine!

Price: $50.00
---
Upside-down Max
Featured Item!

Note I didn't call this "Roaching Max"- not everyone comprehends the concept of "dead cockroach position". Only we greyhound enthusiasts.
This is the only sterling Max I have, so I consider him well-positioned on this soft grey cushion of abalone.

Price: $65.00
---
8Ball Framed

8 Ball, like flower Girl, resides within woodsy frame measuring 1.375" including the bail. The flower centers are oxidized for emphasis.
Price: $65.00
---
Aquamarine

This is Aquamarine in a subtle shade and unpolished natural form.
Look closely - you'll see the stone is cut with a horizontal point and Brynn runs above it, tilted to face admirers.
If your birthday is in March, we've got you covered!

Price: $160.00
---
Astrophilite

WHAT? You've never heard of it? (You're not the Lone Ranger!) "Astrophyllite is a very rare, brown to golden-yellow hydrous potassium iron titanium silicate mineral."
It's found in Quebec, Greenland, Norway, Russia, and Pike's Peak Colorado!
Up close, it looks a bit like a druzy but much prettier with its gold tones.

Price: $95.00
---
Blue Betty

Or green Betty, depending upon how you look at this two-piece lab created opal slide. Either way, Betty is a knockout!

Price: $250.00
---
Delicacies

Colorful beads on spring wire with the tiniest of charms- they'll fit anyone easily.
Perfect for daughters and granddaughters!
Price: $35.00
---
Delicate Sterling Mike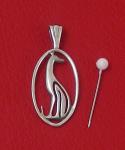 I suppose you could say that Mike is THE classic for Northcoast Greyhounds. He's our earliest design still in circulation, and remains our best selling pendant.
Price: $50.00
---
Fascinating Fordite Agate!

I'd never seen this before, so I had to look it up and I was shocked!
Check this out: "Fordite, also known as Detroit agate or Motor City agate, is old automotive paint which has hardened sufficiently to be cut and polished. It was formed from the buildup of layers of enamel paint slag on tracks and skids on which cars were hand spray-painted (a now automated process), which have been baked numerous times- enough times to become an actual agate!
It makes beautiful patterns, doesn't it?

Price: $100.00
---
Flower Girl

What can we say?
This gracefully long-necked beauty speaks for herself. One of Northcoast Greyhounds original creations, it's obvious that Flower Girl has moved from a sandy racetrack to her own personal field of blossoms.
Flower Girl's frame measures .875" in width, 1.125" in height.

Price: $60.00
This item is on backorder, please contact us for availability.
---
Fordite, too!

Nope- I'd never seen it before, never heard of it! But I was so intrigued by the stone's design design that I purchased several pieces. This is a favorite because I liked the rectangular shape that just fit the design (and Mike!) and the tubular bail that enhances it.

Price: $160.00
---
Hand Woven Rhodochrosite

The construction, by Living En Burmudas, along with the Rhodochrosite mineral both bring the value here- if you are viewing from a device, enlarge the macrame section which attaches pendant to necklace.
I met this handsome young French couple in Tucson at my favorite venue and marveled at their complicated designs. I hope you'll take a moment to see more of their creations and their story HERE!
This was the only beaded necklace among their Tucson collection.

Price: $300.00
---
Last Of The Fosilart

What's wrong with these necklaces?! These three Fosilart designs by Ed Lawrence are the last of many, many Fosilart pendants sold here. Beads and long necklaces are fashionable- I wear my own often!
Maybe a price reduction will help, so I've reduced them by 30%. I'm tired of seeing them on this website! Please note they are of different lengths:
Left: 16" Was $100, Now $70
Center: 34" Was $115, Now $80
Right: 18" Was $100, now $70

---
Spiny Set

In case you've never met a Spiny Oyster, I brought one home from Tucson- a shame they had no purple ones. :)
The dangly earrings feature a pair of Brynns and Mike adorns the pendant. Both have a Mother-Of-Pearl accent.
Offering as a set only (for now...)

Price: $190.00
---
XL 8Ball

XL 8Ball is a highly noticeable piece, measuring 1.25" across. You'll see him mounted upon some stunningly large jewels, or all by himself as in this picture with both hidden bail for wearing on a chain or pin for wearing as a broach. It was one of our customers who insisted he have both- an excellent idea, too!
Price: $100.00
---